Entepesi Kenya Reaches More People with Menstrual Health Education!
Entepesi Kenya, focusing on health, has created an education program to teach both girls and boys about menstrual health.
Education on Menstrual Health for young girls is a part of the school curriculum, but at many times is skipped over due to the cultural implications. Talking about one's body and changes that happen as a child is even looked at as uncomfortable and embarrassing at times.
"Only 50% of girls in Kenya will begin their menstrual cycle and not know what it is or how to manage it. 65% of girls and women struggle to pay for sanitary pads to keep them at work or school." (Menstrual Health in Kenya). On average, 1 MILLION girls miss school EVERY MONTH because they are on their menstrual cycle with no way to manage it (Period Poverty).
EK believes that to change this cultural atmosphere and other barriers, we need to educate everyone including boys to break the stigma of not talking about it or girls feeling embarrassed about this natural part of life. We encourage the boys to advocate and help their fellow sisters, friends, and family members who experience this. Instead of shame, we encourage the girls to be advocates for themselves and others.
EK had the opportunity to teach at three primary schools in Makueni County, Kenya. At Kongo, Kathiani, and Mbukoni Primary Schools 489 students and staff were educated. 92 girls received sanitary pad donations for 2 months, 11 of which received 6 months' worth. The girls and boys from classes four through eight received Menstrual Health Education where we discussed puberty, body changes for both sexes, and what happens when a girl starts their menstrual cycle. Both students and staff learned together and encouraged each other to share the knowledge with others.
We are grateful for the opportunity to teach and empower the students to advocate for each other!
To partner with Entepesi Kenya in our Health Education programs or to donate money for sanitary pads visit our website: www.entepesikenya.org/donate
Kongo Primary School
Kathiani Primary School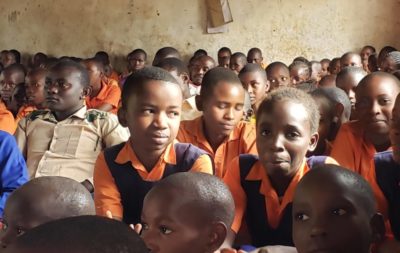 Mbukoni Primary School