Entepesi Kenya (EK) Holds Five Medical Outreaches in Kajiado Central!
During the week of April 24th to April 30th, EK implemented five medical outreaches in Kikurru, Impiro, Ewangan, Enkorika, and Orinie in Kajiado Central. These were only possible through partnerships with Developing Workers (DW) organization, local Baptist Churches, and the Ministry of Health (MoH).
The camps provided the community with safety screenings, medical examinations, nutrition, pharmacy, physical therapy, spiritual counseling, and more!
It was a great experience to work side by side with all of the skilled health professionals, community health volunteers, church members, and Pastors. Every individual that worked/volunteered at the events gave their best efforts to serve the people in need.
In only FIVE days the group was able to accomplish the following:
1024 adults and children examined and treated;

1142 people were dewormed;

146 provided medical referrals for further treatment;

3 family planning given;

10 Community Safety Interventions identified for counseling/emotional support;

208 Tested for HIV/AIDS with only 3 positives who received counseling;

4 children received routine immunizations;

78 people went through physical therapy education.
As the community went through the clinic each person was offered prayer and counseling. Throughout the week 35 people choose to give their lives to Christ!
Our gracious host, Pastor Wilson of the Namayian Church shared wisdom with the team, "We treat the people, but God heals them!"
Entepesi Kenya seeks to provide quality healthcare services that each person deserves through nurturing partnerships. With the partnership of Developing Workers, local Baptist Churches, and the Ministry of Health (MoH), we are a step closer to succeeding. You too can partner with us to support needy communities in Kajiado county, go to www.entepesikenya.org/donate
Group photo with the Developing Workers Team & Entepesi Kenya!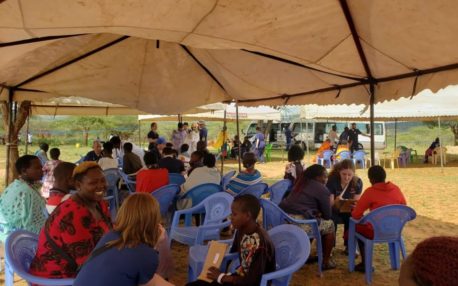 A typical day at the medical outreach… sitting in groups under the tents!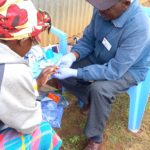 Polong, the Community Health Assistant, helping test for HIV.